PINES ICE ARENA

COOLEST CAMP
FIGURE & RECREATIONAL ICE SKATING

Come spend Summer at the coolest place in town by joining our
summer skating camp!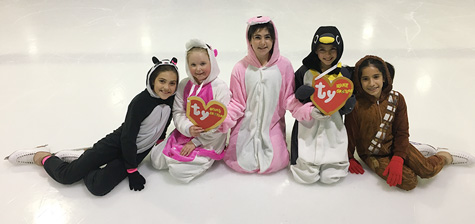 DOWNLOAD CAMP REGISTRATION FORM
You will have tons of fun participating in:
3 hours On-Ice Training
(skating skills, jumps, spins & more)

Off-Ice Training
(Strength, yoga/stretching, dancing & more)

Recreational Practice + Game time

Arts & Crafts

Lunch & Snacks

Skaters must be at least 6 years of age
CAMP DATES:
June 12th, 2017 – June 16th, 2017
June 19th, 2017 – June 23rd, 2017
June 26th, 2017 – June 30th, 2017
July 10th, 2017 – July 14th, 2017
July 17th, 2017 – July 21st, 2017
July 24th, 2017 – July 28th, 2017
July 31st, 2017 – August 4th, 2017
August 7th, 2017 – August 11th, 2017
Drop off: 8:30am
Pick up: 3:00pm
Extended hours are available from 3:00pm – 5:00pm for an additional cost
What do I bring?:
Gloves
Sweater or Jacket
Sneakers
Water bottle

Lunch and Snacks are provided;
skaters are permitted to bring their own food from home too!
Prices:

Full Day 9:00 am – 3:00 pm
$325 for first week
$299 for each additional week
or
$75/day
__________________________
Half Day 9:00 am – 12:30 pm
$300 for first week
$275 for each additional week
or
$65/day
__________________________
Extended Hours 3:00 pm – 5:00 pm
~ SUPERVISED AFTERCARE ~
Includes 1 hour freestyle ice as well as an additional snack & drink
$10.00/day if prepaid
($15.00/day if paid for day of)
____________________________

Questions? Call us at (954) 704- 8700